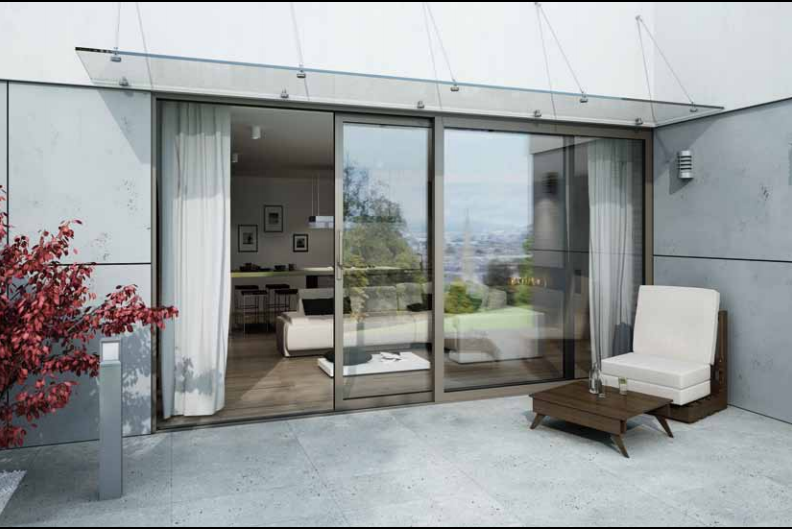 For Lift & Slide Doors GL-59hs
Lift & slide door is the perfect integrating element that connects rooms or winter gardens with external spaces. It provides a convenient exit to the balcony, terrace or garden.
When in the open position, the door does not take up space inside the room, whilst enabling a very good contact with the environment which further increases the comfort of use. GL-59HS gives you great possibilities in applications of lift & slide doors, and is the optimized solutions in terms of construction and dimensions of its profiles and frames. With its high thermal and sound insulation, combined with excellent water and air tightness, GL-59HS meets all the requirements for energy conservation and environmental protection.
In terms of thermal insulation, GL-59HS profiles have two different variants: ST and HI. The range of available profiles include 2- and 3-rail frames, and leaves that are adapted to two heights of rolling devices. A wide range of glazing enables the use of double and triple glazing units, including safety and sound insulation units. Due to its characteristics, the GL-59HS can be used in various types of buildings: individual buildings, hotels or apartments.
GL-59HS door – Technical parameters:
Air tightness, class 3, EN 12207
Wind tightness: up to class C3, EN 12210
Thermal insulation: Uf from 1.8 W/(m2K)
Advantages of GL-59HS:
important dimensions of the door leaves that exceed by far any standard values: height up to 2.8 m, width up to 3.3 m; and max. leaf weight up to 300 kg,
slender and robust, 3-chambered profiles, with insulating chamber equipped with wide thermal breaks in the central part,
2-or 3-rail frames that enable the fabrication of doors with wide clear passage size,
large glass thickness to be fitted in the door leaves (up to 42 mm) to bring flexibility in choosing the appropriate glass,
fixed lites can be fabricated with glass mounted directly to the frame – a solution that is both aesthetic and economical,
relatively low heat transfer coefficient for frames (Uf) assured by wide thermal breaks, polyethylene inserts and chambered profiles mounted in thermal insulation strips,
high water and air tightness assured by specially-shaped gaskets and hardware that allow the leaf to embed on the frame in the final stage of closing the leaf,
ability to mount most of the hardware for lift & slide doors available on the market,
door version with a low-level threshold, which makes it easier to use the door especially by the elderly or disabled,
doors can be mounted individually or as part of larger constructions : mullion and transom curtain walls or winter gardens,
maximally simplified construction technology to reduce time and costs of fabrication,
compatibility with other Aluprof systems – common components can be used.

---
3D DESIGNS GL-59HS
---
TECHNICAL DETAILS GL-59HS